How does the ChiTownTennis Tennis Ladder Work?
Tennis Ladder Basic Concept
Players are arranged much like the rungs of a ladder. The idea is to be at the top of the tennis ladder. It is a lot like king of the mountain. As you win, you move up the ladder. Winning players take the place of their higher ranked opponents, thus "leap-frogging" them.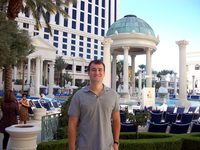 Member Since 09/16/09

Great program. Makes it easy to find matches against players of your skill level. Just what I was looking for. Casual yet also competitive.


To make sure players are actively playing every 15 days we re-adjust the rankings based upon if players have played or not. All players who have played a match will be moved above the players who didn't play a match in that period. All new players start at the bottom of the ladder and need play to make their way up the ladder.

The tennis ladder is a monthly subscription service. The Tennis Ladder is ongoing and remains open as long as the weather is good enough to play outdoor tennis. This is not a doubles program.


Your Task-"Scheduling and Meeting up with the other players"

You meet up with the players to play a match. Play players above you and below you in the ladder, just play. ChiTownTennis's objective to ensure players are actively playing. We try to use an incentive system to push players along. Anyone who plays 3 different partners in a calendar month will get another month of service for free.




Where to Play?

The league strongly suggests that players jointly choose a tennis court location convenient to both. We now geo-locate your program contacts which means you should receive partners closer to your preferred playing location. We provide an extensive list of tennis courts for each area, including details such as # of courts, lighting, hitting walls and links to google maps for directions. Starting in 2009, members can submit court ratings on the overall condition, surface, lighting quality, facility management, and general comments regarding specific courts. This will provide players with up-to-date court information on new and existing courts. We encourage members to keep this list fresh and up-to-date.




Target Audience

The Tennis Ladder is for players from Advanced Beginner to Advanced / 4.0. Elite level players might not find the tennis ladder a good format due to the diversity of talent typically enrolled. We encourage beginners to play in the Tennis Ladder prior to playing in a league. We track the results of the Tennis Ladder and do make skill rating adjustments based upon scores if necessary. The tennis ladder has typically more diverse level of players in it which is why we strongly believe the Flex league is the better format for closer matchups.



Member Since 03/26/15
This was the first year I've played with the ChiTownTennis league and it has been wonderful! I've met a lot of really nice people and have had a chance to explore new courts in the city.
C. McPherson
ChiTownTennis
Cost to Participate
The cost will be no greater than $12/month to participate in the program. Any player that plays 3 or more different partners in a calendar month will get another month of service at no cost. In some *NEW* cities the program will be free as we are trying to build a dedicated tennis playing community. For details on your city please just refer to your homepage.
Tennis League Network Donations
Our business charter is based upon doing the better good for players health and society. We will continue to donate 2% to 4% of the Tennis Ladder Entry fees to Cancer Research Institute.
Join Today!!
So
and we'd be happy to find you dedicated tennis ladder playing partners.