Some kind words from our 4,400+ Chicago tennis players
(85,400 + nationwide)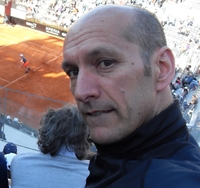 Member Since 09/18/12
I just want to say how much I have enjoyed playing my first seasonand I anticipate a lot in 2013 - and hopefully making the playoffs.
Member Since 03/26/09
I've played in the League since 2009. Lots of great matches. Flexible scheduling for times and locations, friendly competition, and an informal tour of the Chicago Park District. Highly recommended!
W. Mansfield
ChiTownTennis